Priyanka Chopra is India's true ambassador to the west. With her Oscar appearance, hit television show, magazine covers and an upcoming Hollywood movie, PeeCee is making a mark for herself among the global audience.
Yesterday, while we all were drowned in colours celebrating Holi, Priyanka was guest starring on 'The Tonight Show Starring Jimmy Fallon'. 
On the show, Priyanka was at her adorable best (like always). Playing the villain in her upcoming Hollywood debut film, 'Baywatch', PeeCee seems really excited acting with Dwayne Johnson aka 'The Rock'.
Priyanka also added that her character was really mean to both Dwayne Johnson and Zac Efron and she enjoyed that part.
When Jimmy asked her about her recent success, Priyanka said that one should not get 'heavy' when they become successful. And she delivered a kickass quote too.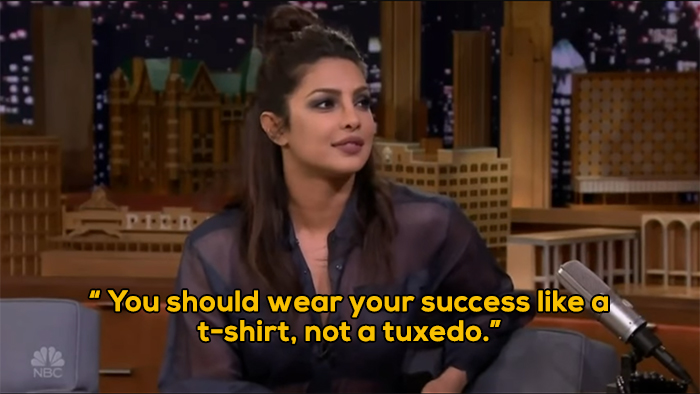 As the episode was shot on the holy day of 'Holi', Jimmy made sure that PeeCee didn't feel homesick. Catering to her international audience, Priyanka explained Holi in probably the best way possible.
They later had 'Thandai' on the set too, although without the 'magic substance'.
The best part of the show came at the end when Priyanka and Jimmy covered each other in rainbow colours. Before Jimmy could even start, Priyanka had him coloured (obviously, with all the practice she have had in India).